How to visualize your Firestore data with Chartbrew
Connect, query, and visualize your Firestore data with Chartbrew. A step-by-step tutorial on how you can start creating your insightful dashboard.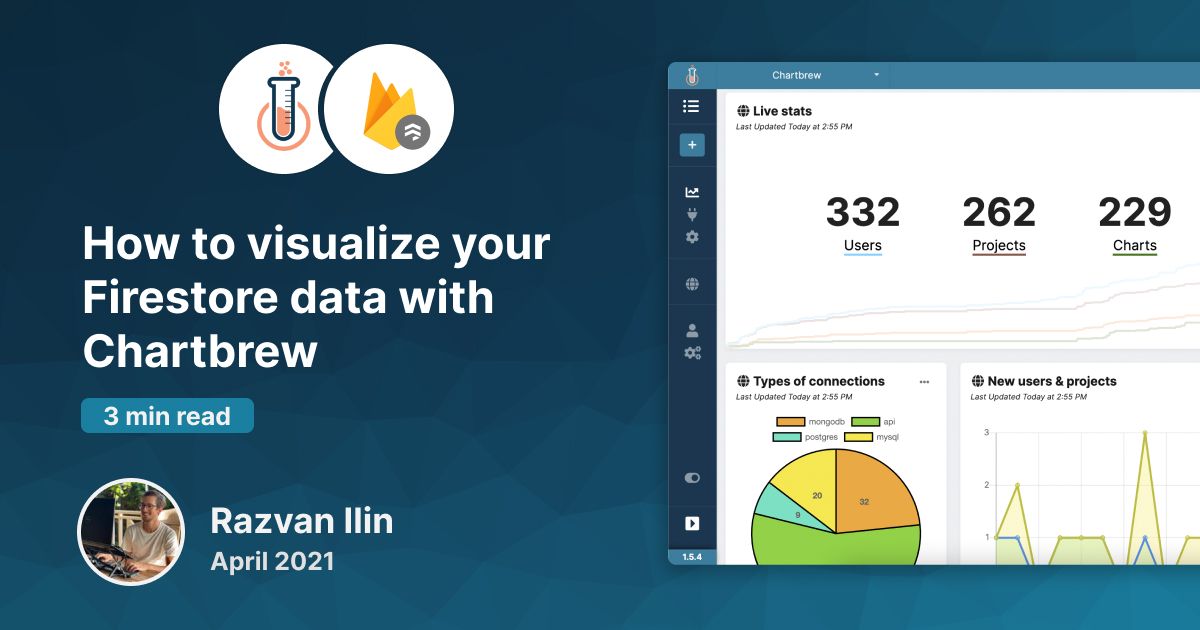 This post will quickly walk you through how to connect your Firestore database to Chartbrew and use the data to create a simple visualization. To get started, you can create a free account on Chartbrew or self-host the project on your machine.
Create a Firestore connection
To connect to Firestore, we will need a JSON authentication file which we can download from the Firebase project settings. First, head over to the connections page in Chartbrew and create a new Firestore connection.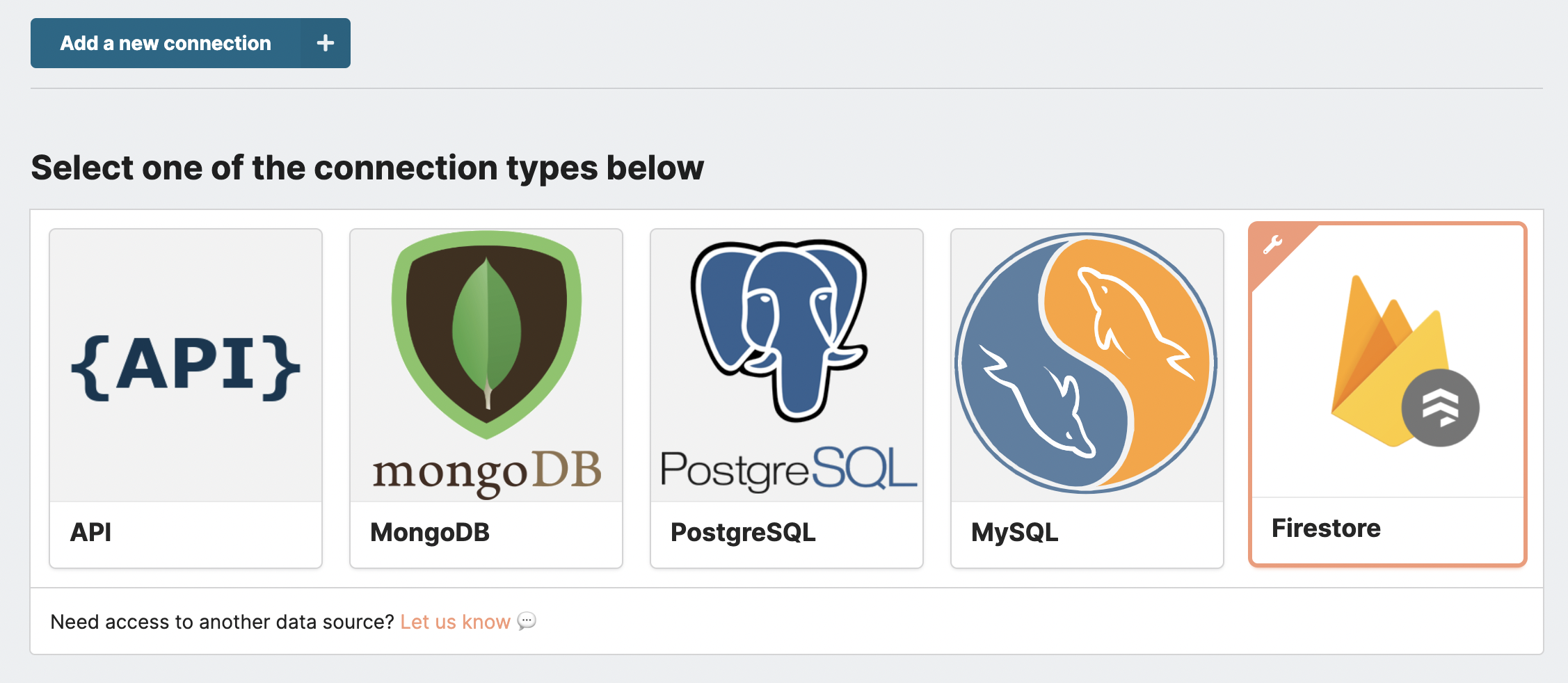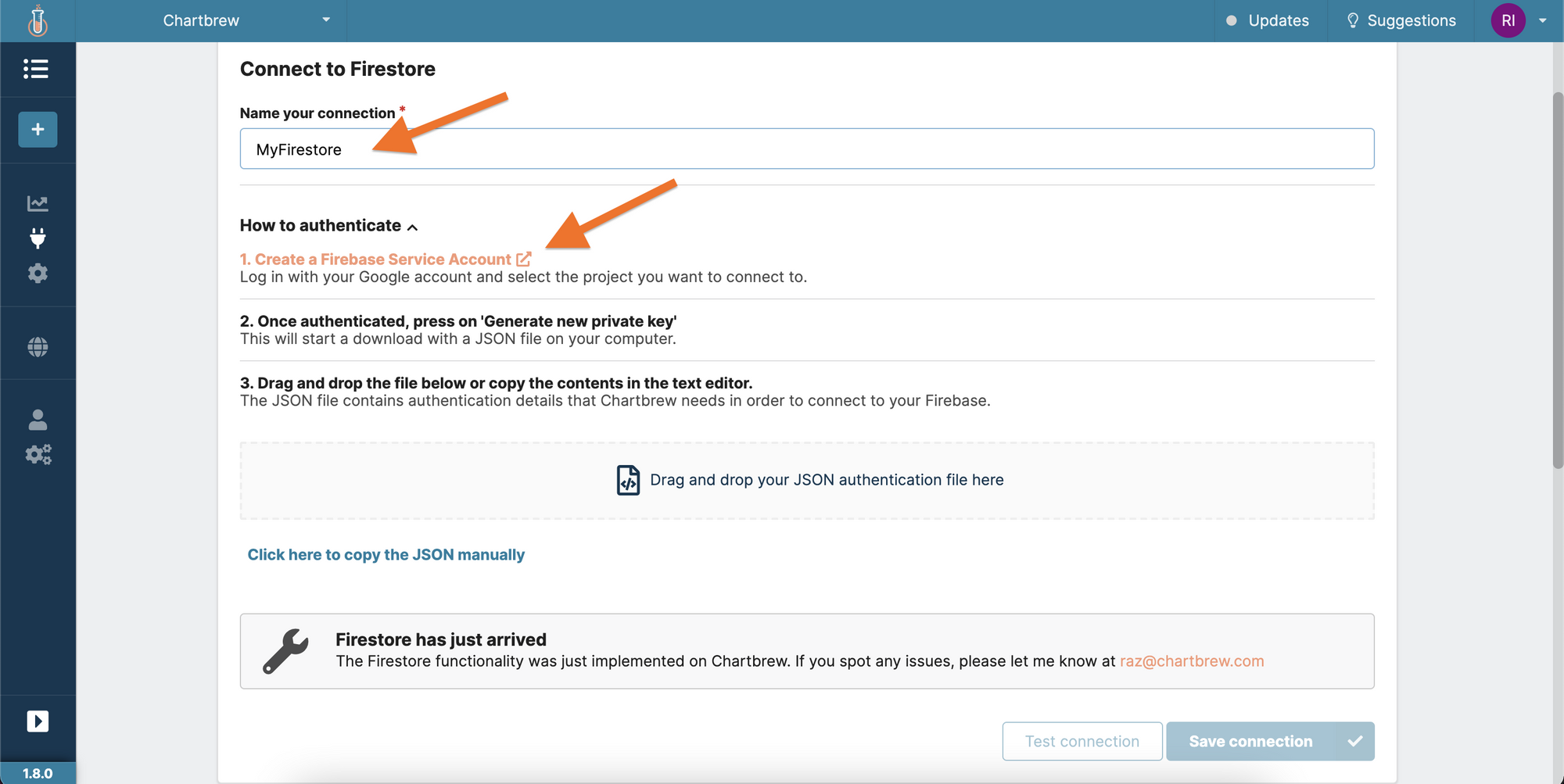 Enter any name for your connection and then click on the link to head over to your Firebase project settings. You can also click here to go there. Once you head over to the URL, you have to select the Firebase project you want to connect to. In the example below, the project is called chartbrew-test.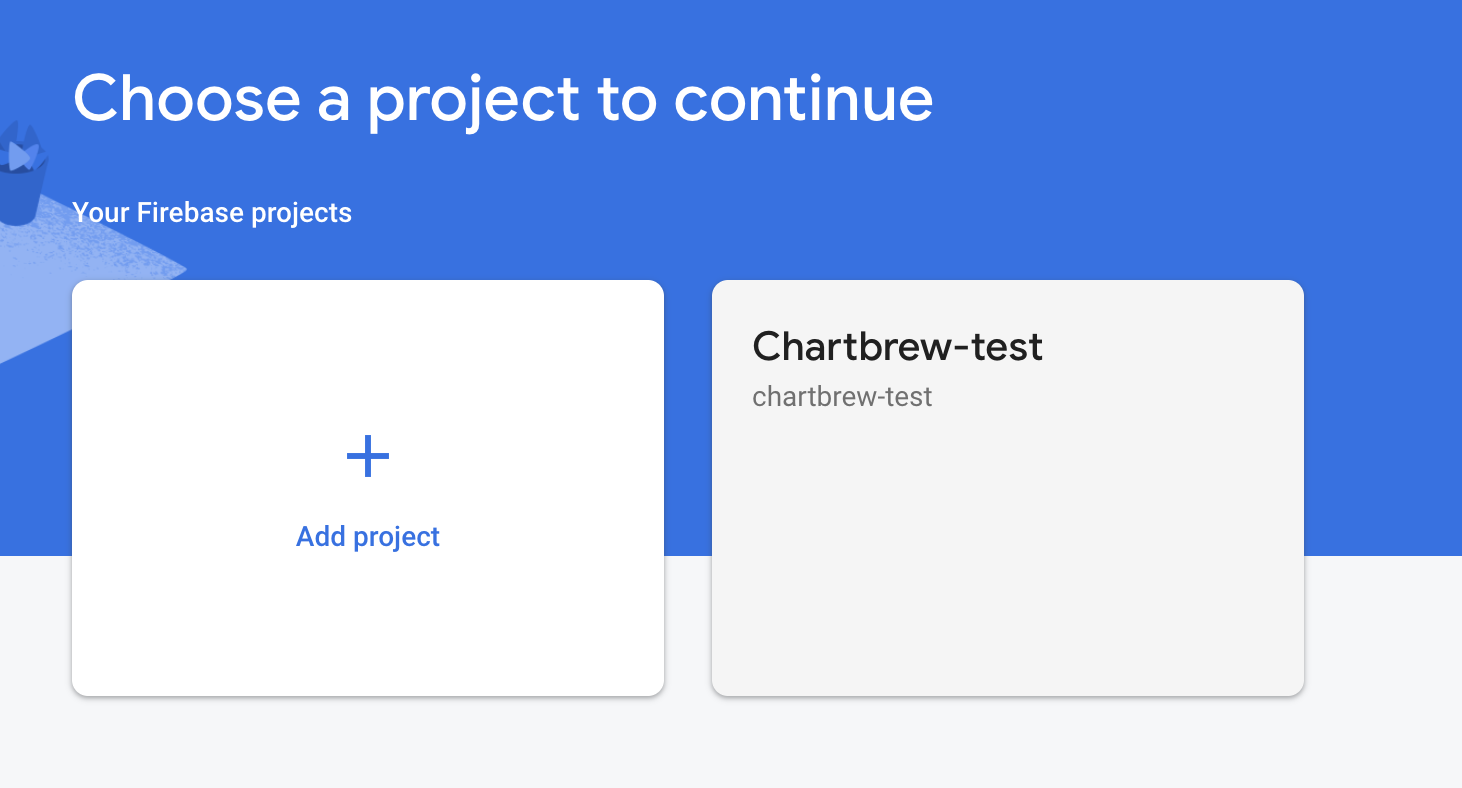 After you click on your project, you will get to the Firebase Admin page from where you have to download your JSON credentials file. Click on the "Generate a new private key" button and you will be prompted to download the key.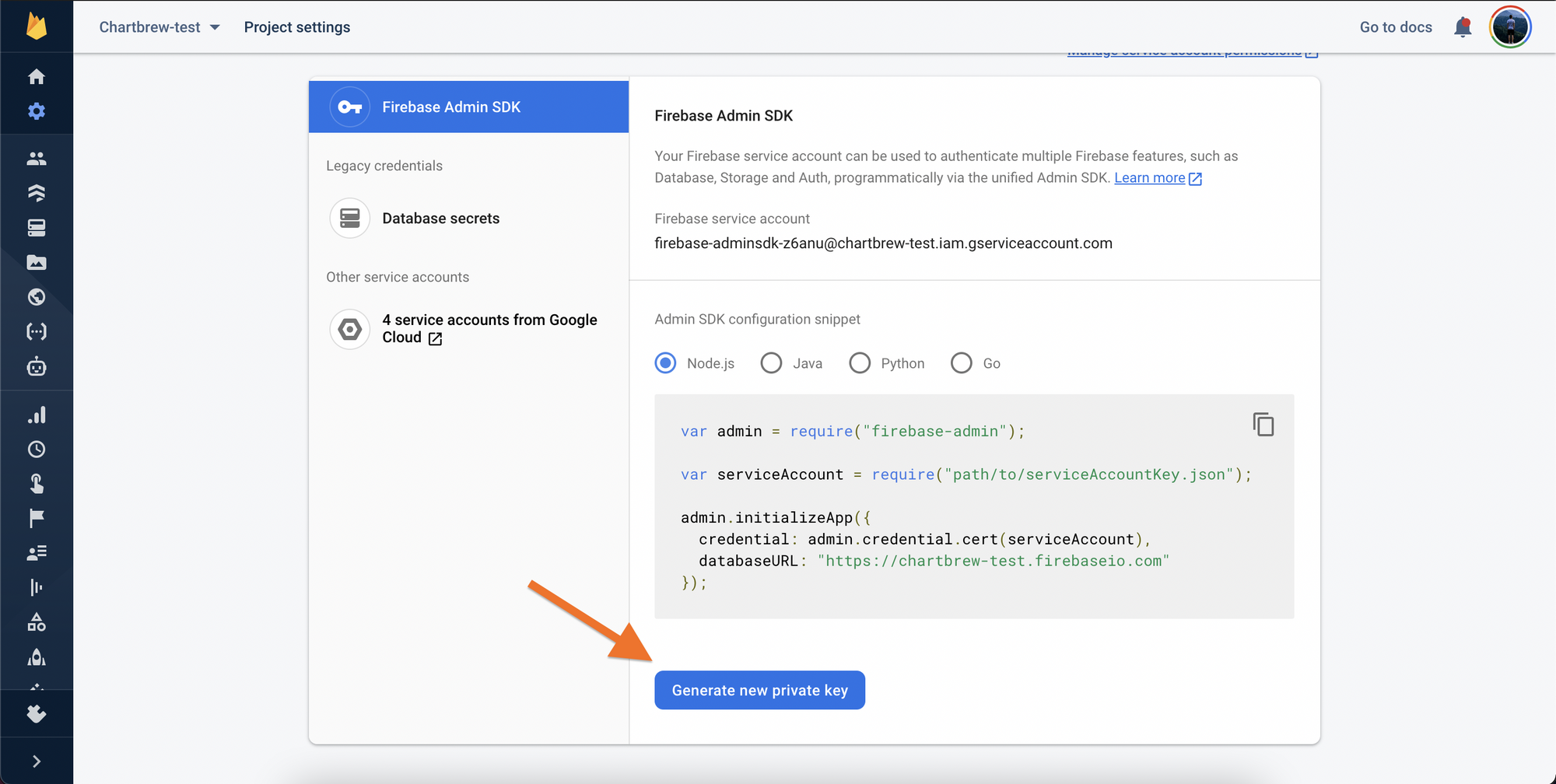 Once you have the key in a JSON file, it's time to return to Chartbrew and add the credentials to the form. You can either copy and paste the contents of the file in the form, or much easier, drag and drop the file directly on the form.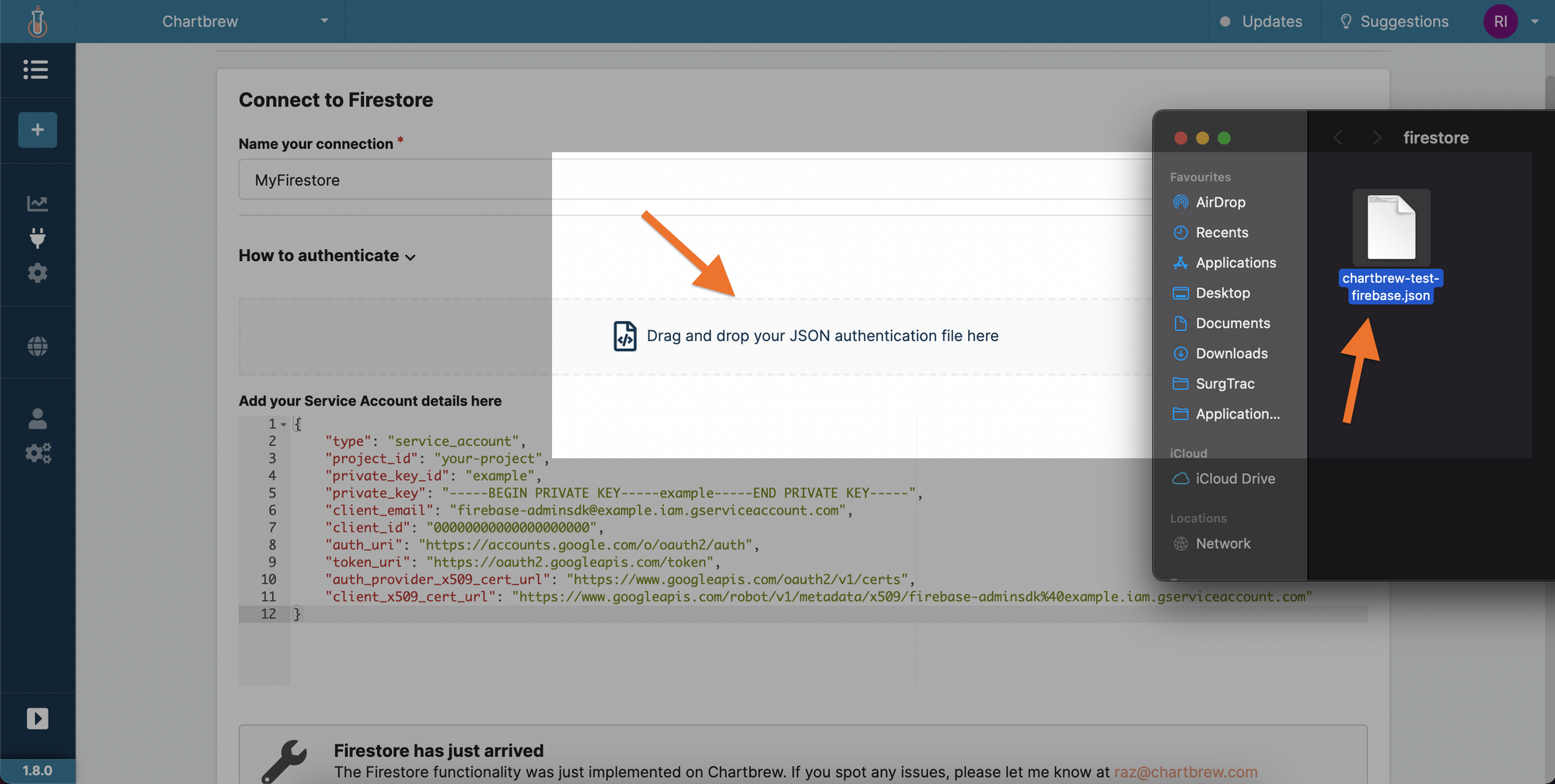 To make sure the authentication works, press the "Test connection" button, and you should get some info about your Firestore database below.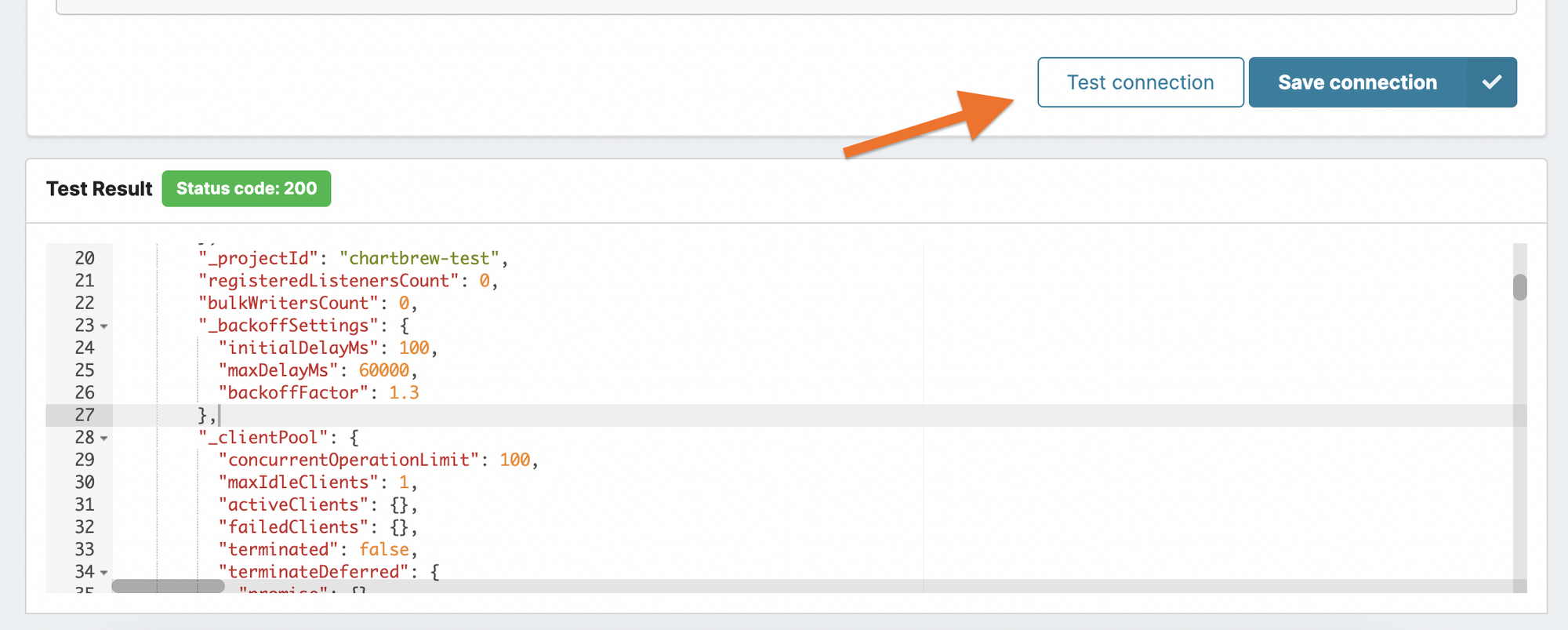 And that's it! We are now connected to Firestore. Next, let's query for some data and create a visualization.
Create a visualization with Firestore data
Now that we are connected, we can start to query for some data and build our first chart.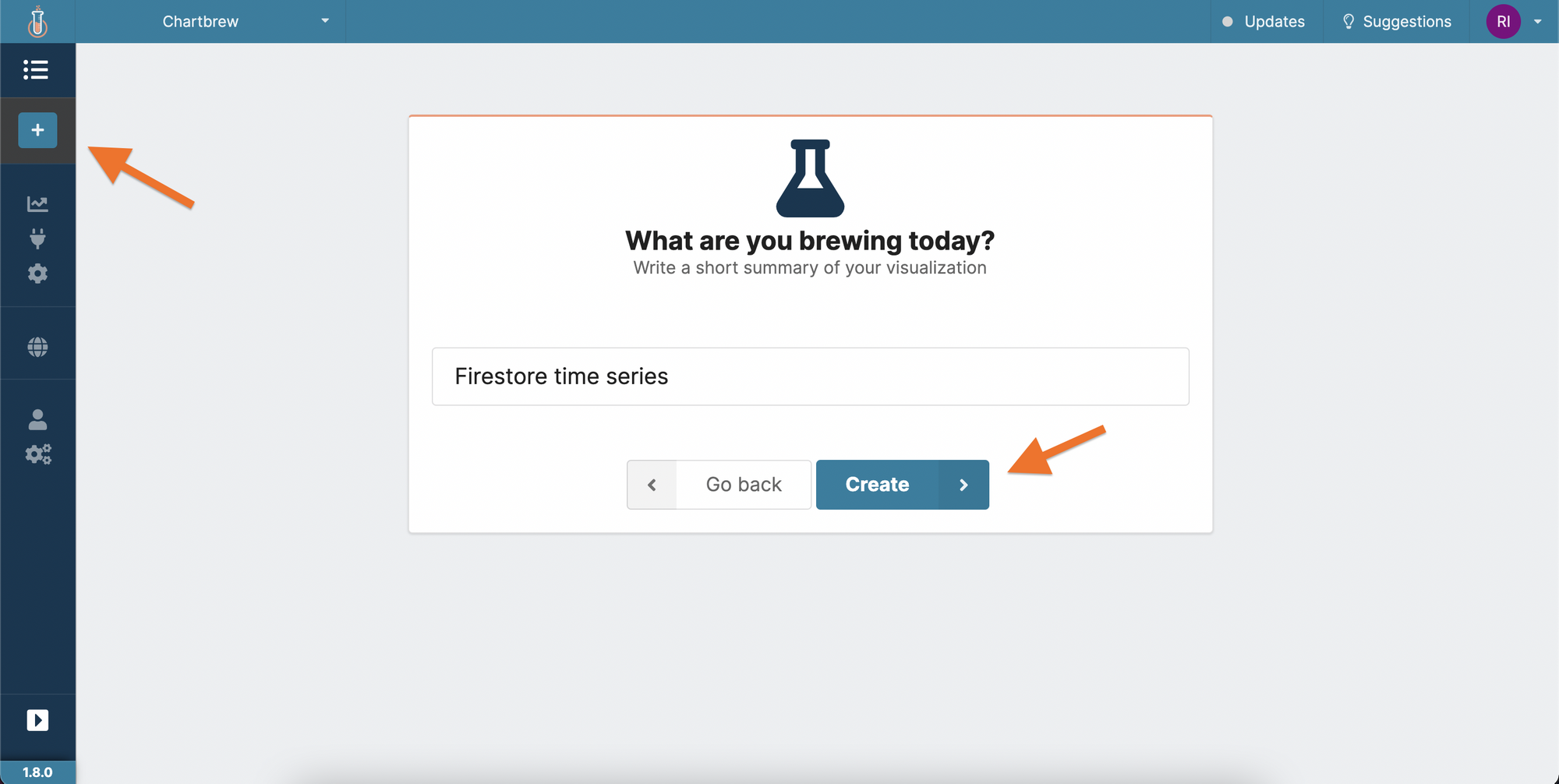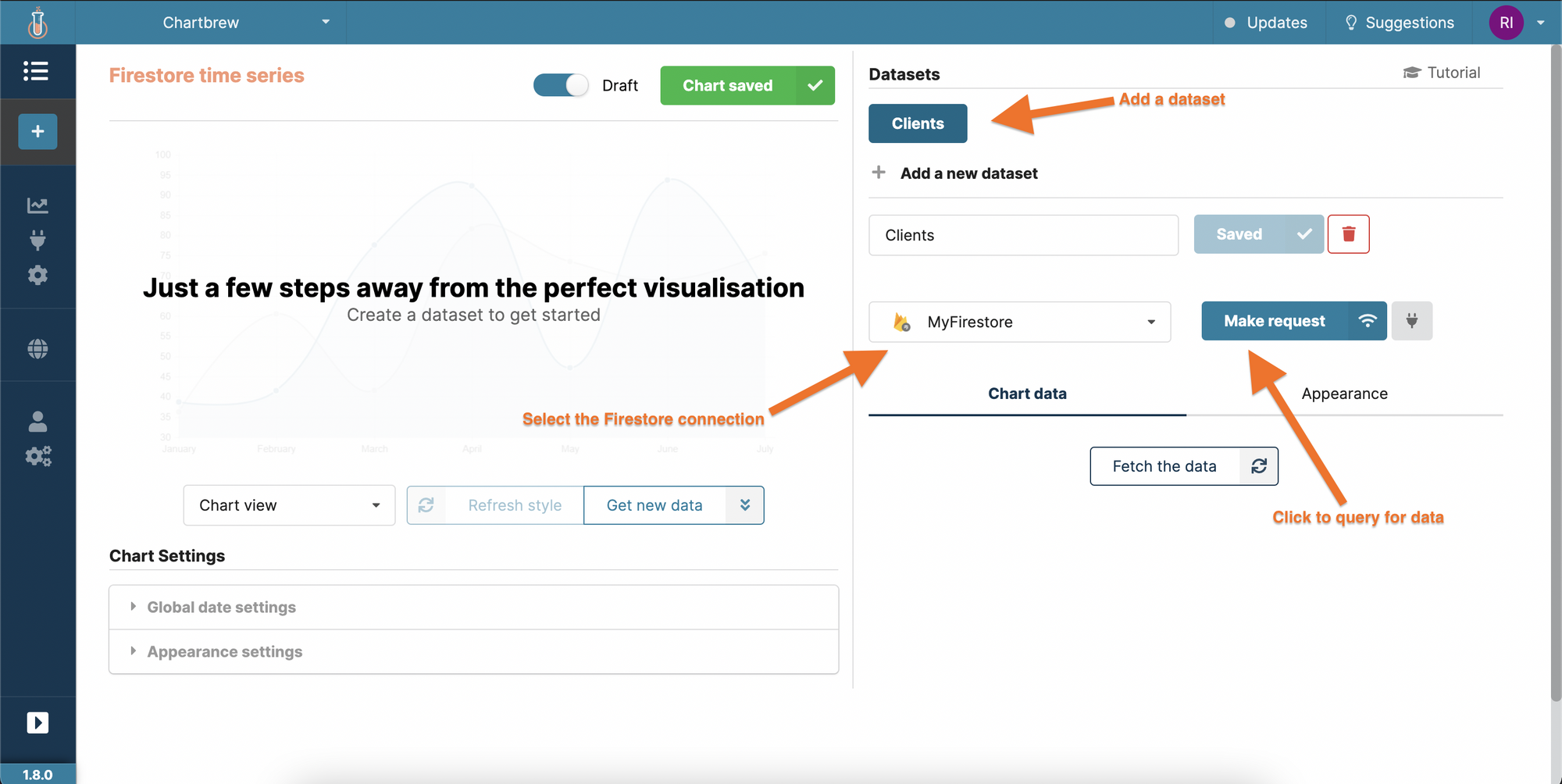 After creating the first dataset and selecting the Firestore connection, we are ready to query for some data. On the next screen, Chartbrew will show you all the available collections in your database and after you select one of them, you fetch the data. You can also use the filters to select only the data you want.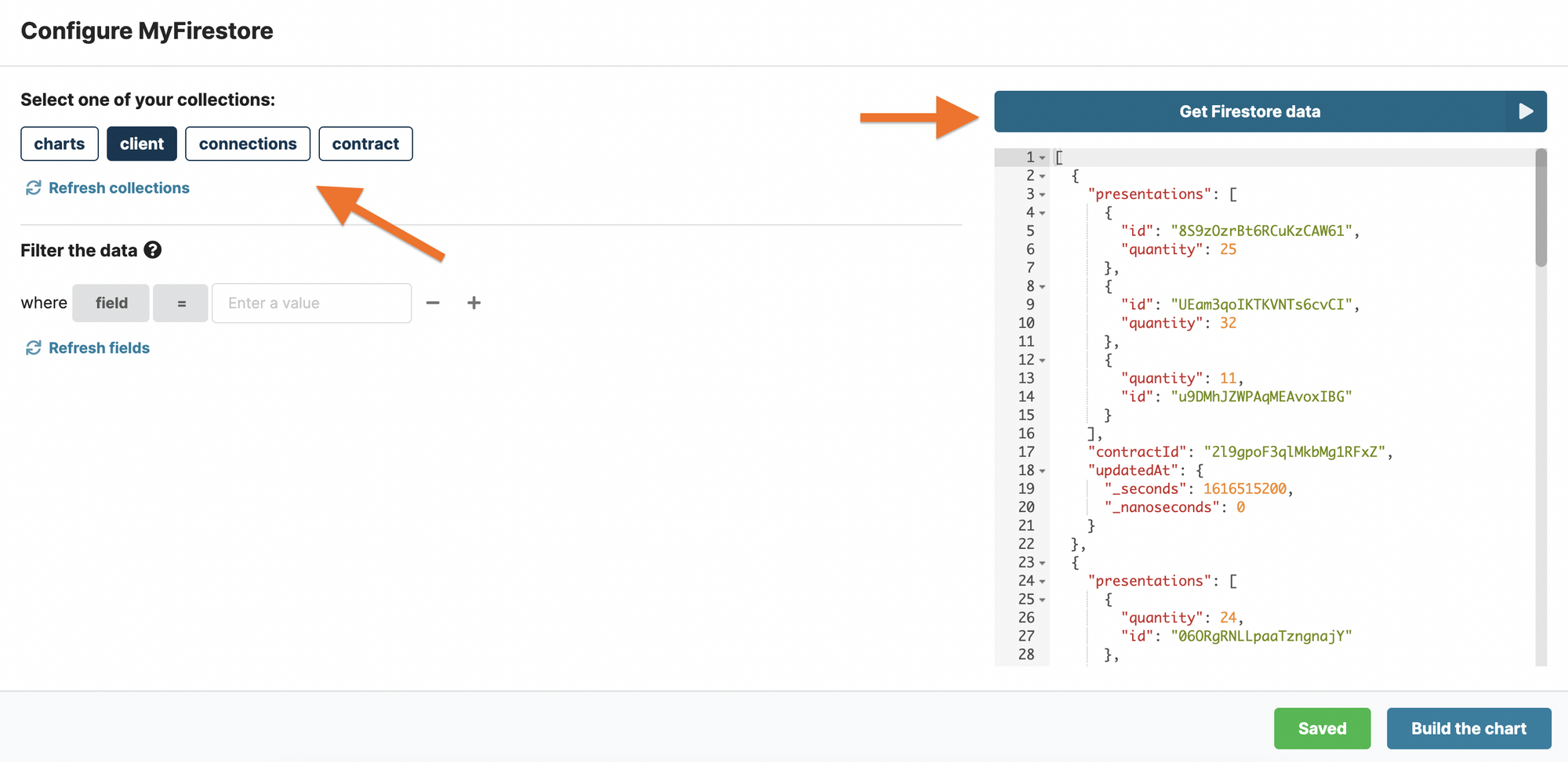 Once done, click on the "Build the chart" button, and depending on your data, Chartbrew will try to create a visualization for you automatically. You can further customize what the chart shows on the Y and X-axis.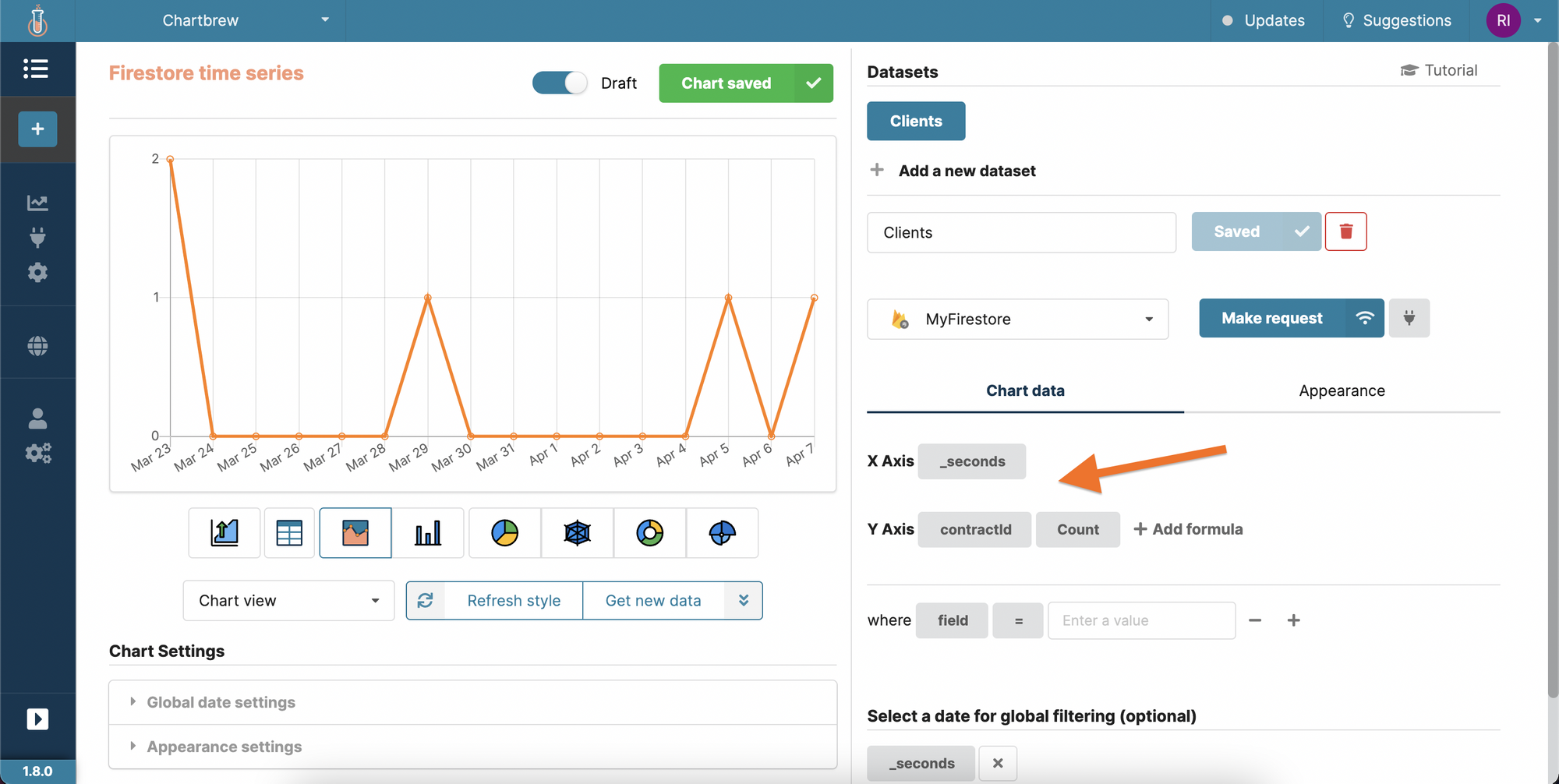 Auto-update, share, embed
With Chartbrew, you can do many things with your charts. Other than arranging them into an insightful dashboard, you can set them so they auto-update in a time interval. The charts are not updating whenever a user refreshes the page. The data updates when triggered manually or when the auto-update interval is on.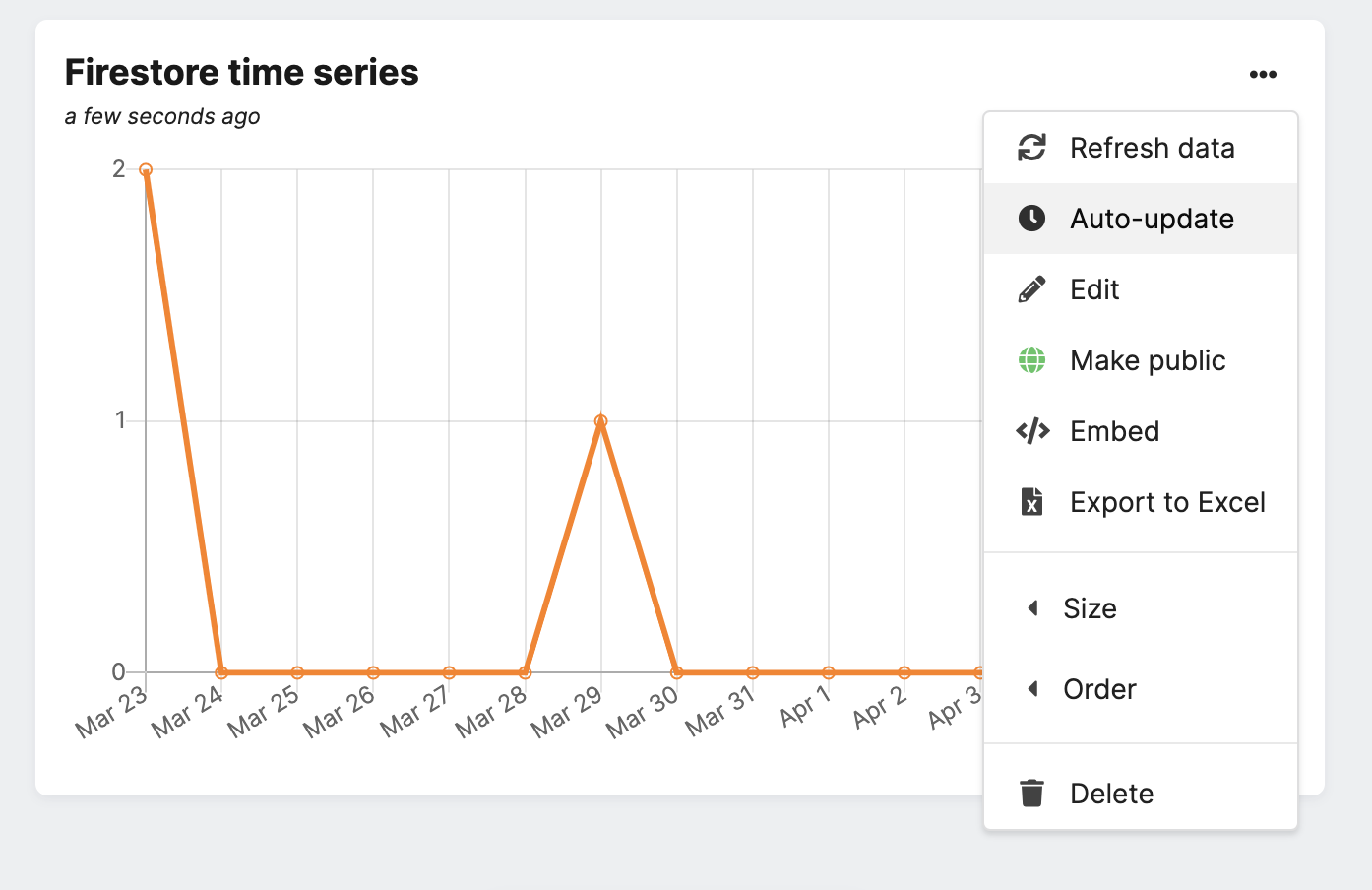 You can also share the chart's link with anyone and can even embed a live chart on your website or documentation sites and blogs.
Next steps
Try to connect other services to Chartbrew and create charts from different sources in the same dashboard
Use other visualization types such as pie charts for segmentation or table views for a clear display of data
Measure your KPIs with the KPI view in the chart editor
Check other tutorials to learn how to connect various data sources to Chartbrew